International Women's Day

In celebration of International Women's Day, see below for a series of fascinating Q&A's with inspiring women I've had the good fortune to interview for the expert section of the All-About-Psychology website.
Dr. Celine Mullins
Dr. Celine Mullins has over 15 years experience as a Psychologist, Coach and Training Consultant working across Multinationals, SME's, Governmental and Educational agencies. Dr. Mullins is the CEO and Founder of Adaptas, a Leadership Development Training organisation, developing managers and leaders and teams, in Ireland and Internationally. She founded adaptas to put a gigantic spin on more traditional approaches to learning, which she believes often fall short of making real and lasting change happen.
With a focus on narrowing the gap between the training room and the real world, and using what we know about the brain and behaviour from psychology and neuroscience, Celine's specialties include; leadership communication, eradicating behaviours and limiting beliefs that restrict performance and relationships, while improving team communication and collaboration. You can access the interview with Dr. Celine Mullins via the following link.
Dr. Kate Lund
Dr. Kate Lund is a licensed clinical psychologist and performance coach with more than 15 years experience. An adjunct instructor in psychology at Bastyr University in Seattle, she has specialized training in medical psychology from three different hospitals all of which are affiliated with Harvard Medical School. 
A renowned expert on the psychology of resilience, Dr. Lund writes and speaks on a variety of topics aimed at empowerment and the development of one's true potential and uses a strengths-based approach in working with students, athletes, parents, and teams to improve their mental game in school, sports and life while helping them to reach their full potential. You can access the interview with Dr. Kate Lund via the following link.
Ginny Smith
Ginny Smith studied Natural Sciences at the University of Cambridge, specialising in Psychology and Neuroscience, and now spreads her love of science as a science writer and presenter. She performs her range of science shows about the brain at science festivals and to school groups in the UK and internationally, as well as teaching at the University of Cambridge's Institute of Continuing Education. 
Ginny is a presenter and producer for the British Psychological Society's Psych Crunch podcast, a regular on the Cosmic Shambles Network, and previously worked with the Naked Scientists and Cambridge TV. She loves to write science articles for a general audience and is a regular writer for DK science books. You can access the interview with Ginny Smith via the following link.
Claudia Hammond
Claudia Hammond is an award-winning broadcaster, writer and psychology lecturer. She presents the critically acclaimed All in the Mind & Mind Changers series on BBC Radio 4, and also the BBC World Service series "The Truth About Mental Health?"  You can access the interview with Claudia Hammond via the following link.
Margie Meacham
Learning consultant Margie Meacham (aka 'The Brain Lady') teaches people how to design and deliver training that is compelling, memorable and immediately useful by applying the latest discoveries from the converging fields of learning science. The author of "Brain Matters: How to help anyone learn anything using neuroscience" believes that if you understand how the brain works you can become a better teacher, trainer, leader, spouse or parent and have more fun doing it. You can access the interview with Margie Meacham via the following link.
Dr. Karen Franklin
Karen Franklin, PhD, is a forensic psychologist and an adjunct professor at Alliant University in San Francisco. She conducts ethics training for clinical and forensic professionals in the United States and internationally. Her published research – including on hate crime motivations, group rape and ethics in forensic diagnosis – garnered a 2012 award for Distinguished Scientific Achievement in Psychology. You can access the interview with Dr. Karen Franklin via the following link. 

Gina Perry
Gina Perry is a psychologist and writer. Her feature articles, columns, and essays have been published in The Age and The Australian, and her short fiction has been published in a number of literary magazines, including Meanjin, Westerly, and Island. 
Her co-production of the ABC Radio National documentary about the obedience experiments, 'Beyond the Shock Machine', won the Silver World Medal for a history documentary in the 2009 New York Festivals radio awards. She teaches in the Master of Publishing and Communications at the University of Melbourne. You can access the interview with Gina Perry via the following link.
Dr. Angela Bloomquist
Angela Bloomquist, Ph.D., is Associate Professor of Psychology and program coordinator for the graduate-level school psychology master of science and certification program at the California University of Pennsylvania. 
A certified school psychologist with over a decade of field experience, Dr. Bloomquist presents in-service training programs to local educators on a variety of topics related to school psychology and serves as a National Association of School Psychologist (NASP) program reviewer for school psychology graduate programs across the United States. You can access the interview with Dr. Angela Bloomquist via the following link. 
Dr. Thalia Goldstein
Thalia R. Goldstein, Ph.D., is an assistant professor of Psychology at Pace University whose research interests lie at the intersection of social cognition and imagination. Dr. Goldstein is the author of numerous articles and book chapters on children's role play, the effects of acting training on social skills, the psychology of aesthetics and how we understand fiction. 
A Postdocotral Fellow at Yale University who earned a Ph.D. from Boston College and a B.A. from Cornell University, Dr. Goldstein spent several years as a professional actress and dancer in New York. You can access the interview with Dr. Thalia Goldstein via the following link. 
Dr. Barbara Masser 
Dr. Barbara Masser is an Associate Professor in the School of Psychology at the University of Queensland. She has over 60 papers and reports examining applied social psychological problems. Her work focuses on how jurors perceive victims of sexual assault, and how beliefs about gender influence people's perceptions more broadly. 
Dr. Masser is also Australia's leading researcher examining the psychology of blood donation where she works with the Australian Red Cross Blood Service to promote effective donor recruitment and retention strategies. Dr. Masser has received University and National teaching awards for her four year applied social psychology course and tutor training program. You can access the interview with Barbara Masser via the following link. 
Dr. Joyce Arditti
Joyce Arditti is Professor of Human Development at Virginia Tech. Her research interests include family disruption, parent-child relationships in vulnerable families, and public policy. Her scholarship is recognized nationally and abroad and she has published numerous empirical and review articles in therapy, human services, family studies, and criminal justice journals.  You can access the interview with Joyce Arditti via the following link. 
Dr. Abbie Goldberg
Abbie Goldberg, Ph.D., is an Associate Professor in the Department of Psychology at Clark University. Dr. Goldberg's research interests include how a variety of social locations (e.g., gender, sexual orientation, social class) and contexts (e.g., work, family, community) shape processes of development and mental health. Her research focuses on parenthood, relationship quality, and well-being in diverse families (e.g., adoptive parent families, lesbian/gay parent families) in an effort to increase our understanding of family diversity. You can access the interview with Abbie Goldberg via the following link.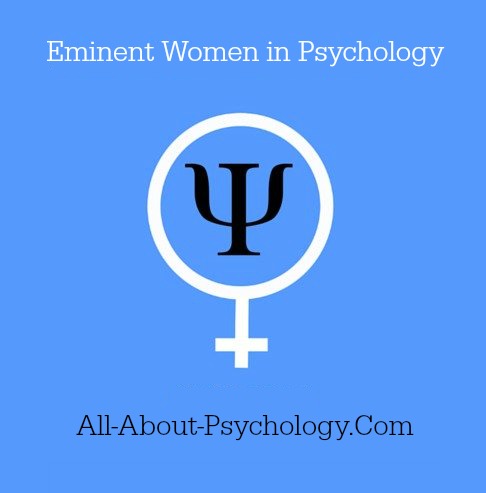 Also in celebration of International Women's Day, All-About-Psychology.Com presents a showcase of some of the most eminent women in the history of psychology. See following link for full details.
Know someone who would be interested in learning about these amazing women? 
Share this page with them
.
Back To The Top Of The Page