Victor Horsley: Today in the History of Psychology (13th August 1886)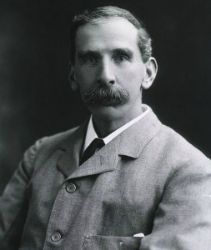 Sir Victor Horsley gave a landmark address to the British Medical Association on 'Advances in the Surgery of the Central Nervous System' in which he described how he had successfully inferred the seizure localization of three epilepsy surgery patients; most notably 'James B.' who suffered from post-traumatic epilepsy as a result of a depressed skull fracture following a traffic accident. Drawing on both the pioneering work of John Hughlings Jackson and his own experimental findings, Horsley was confident that James B's seizure onset occurred in the contralateral sensorimotor strip. Horsley operated to remove the cortical scar and James B. became seizure-free.

Horsley's groundbreaking surgical procedures and research on seizure localization in epilepsy patients was instrumental in shaping the development of modern neuropsychology.

Visit patreon.com/all_about_psychology to become a psychology patron and help support the creation of free resources for psychology students and educators.