Mortimer Mishkin: Today in the History of Psychology (13th December 1926)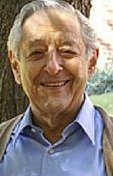 Mortimer Mishkin was born. Chief of the Section on Cognitive Neuroscience in the Laboratory of Neuropsychology, U.S. National Institute of Mental Health, Mishkin is renowned for his groundbreaking work on understanding the functional organization of the primate brain; including the discovery of the role of the inferior temporal cortex in vision and the finding that the brain uses divergent pathways to process two different types of memory, cognitive memory (new information) and behavioral memory (skills & habits.)

Among his many career highlights, Mortimer Mishkin was elected to the National Academy of Sciences in 1984, received the American Psychological Association Distinguished Scientific Contribution Award in 1985 and was presented with the prestigious National Medal of Science from President Barak Obama in a ceremony at the White House in November 2010.