Albert Hofmann: Today in the History of Psychology (16th April 1943)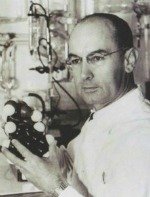 Eminent Swiss chemist Albert Hofmann experienced the first ever LSD-induced 'acid trip.' Hoffman synthesized lysergic acid diethylamide (LSD) in 1938 but was unaware of its powerful hallucinogenic properties until he accidentally absorbed a small amount of the drug, the effects of which he described as follows.

'...affected by a remarkable restlessness, combined with a slight dizziness. At home I lay down and sank into a not unpleasant intoxicated-like condition, characterized by an extremely stimulated imagination. In a dreamlike state, with eyes closed (I found the daylight to be unpleasantly glaring), I perceived an uninterrupted stream of fantastic pictures, extraordinary shapes with intense, kaleidoscopic play of colors.'

Huge research interest in the clinical, psychological and psychiatric applications of LSD followed Hofmann's discovery; however, moral panic over its recreational use and concern over potential adverse psychiatric reactions led to a wide scale ban of LSD by the late 1960's.

In 2014 a study by Peter Gasser et al published in The Journal of Nervous and Mental Disease entitled 'Safety and Efficacy of Lysergic Acid Diethylamide-Assisted Psychotherapy for Anxiety Associated With Life-threatening Diseases' concluded that 'when administered safely in a methodologically rigorous medically supervised psychotherapeutic setting, LSD can reduce anxiety, suggesting that larger controlled studies are warranted.' This was the first controlled trial of LSD in more than 40 years.