Social Psychology

Thinking About Becoming A Psychology Student?
Find A Psychology School Near You

Social Psychology
(Photo Credit: The Waving Cat)
What is Social Psychology?
According to the Social Psychology Network, social psychology is the scientific study of how people think about, influence, and relate to one another. Common topic areas within social psychology include:
Prejudice & Discrimination
Aggression
Leadership
Attitudes
Stereotypes
Group Dynamics
Interpersonal Attraction & Perception
Learn About Social Psychology
Founded by Dr. Hans IJzerman, In-Mind Magazine is an excellent free peer reviewed online quarterly social psychology publication. As the In-Mind team note: 
We provide attractive and informative articles geared towards interaction between scientists and non-scientists...In short, In-Mind is the product of a collaboration of committed individuals who hail from all parts of the world with at least this in common: a love of social psychology and the desire to broadcast its findings to the public.
CLICK HERE to start reading high quality thought provoking articles from the fascinating world of social psychology.

CLICK HERE to visit one of the largest Internet sites devoted to psychological research and teaching.

Click Here to check out this critically acclaimed blog whose contributors include Philip Zimbardo, Mahzarin Banaji, Thomas Blass and Susan Fiske.
This classic case study in prejudice devised by third-grade school teacher Jane Elliott in 1968 is just as compelling today.
CLICK HERE for comprehensive information and video footage of the blue-eyed brown-eyed exercise. Powerful stuff!
Recommended Reading
Social Psychology (8th Edition) by Elliot Aronson, Timothy D. Wilson & Robin Akert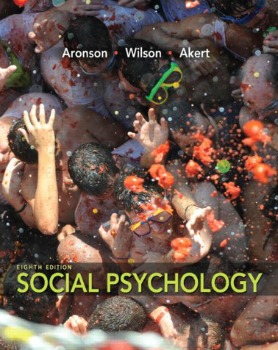 Book Description
This renowned text maintains its acclaimed storytelling approach, teaching the science of psychology through an engaging narrative that makes research relevant to students. Drawing upon their extensive experience as researchers and teachers, Elliot Aronson, Tim Wilson, and Robin Akert present the classic research that has driven the field and introduce cutting-edge research that is the future of social psychology. Significantly updated to reflect advances in the discipline, the 8th edition provides a firm foundation for students to build their understanding of this rigorous science in a way that engages and fascinates.
See following link for more details:

Social Psychology (8th Edition)


UK Visitors Click Here
USA Psychology Programs Search
Find The Perfect Program For You Today!
Find A Psychology School Near You

Back To Top Of The Page


Go Back To The Types of Psychology Page


Go From Social Psychology Back To Home Page