John Dewey: Today in the History of Psychology (20th October 1859)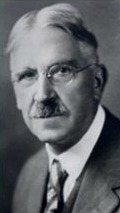 John Dewey was born, an eminent philosopher, psychologist and champion of progressive educational and social reform, Dewey is widely considered as one of the 20th Century's greatest thinkers. A prolific writer, Dewey published influential works across a range of topics including; instrumentalism, pedagogy, epistemology, political theory, religion, pragmatism and ethics.
Among his many professional accolades, John Dewey served as president of the American Psychological Association in 1899, was awarded the prestigious Columbia University Butler Medal in 1935 for 'the distinguished character and continued vitality of his contributions to philosophy and education' and in 1968 was featured on a 30 cent stamp issued by the United States Post Office Department as part of their Prominent Americans series.
John Dewey died on the 1st June 1952 aged 92. His obituary in the New York Times noted that the best description of him was be found in the editorial written to mark his eightieth birthday: Namely, 'there are countless school children today and yesterday whose lives have been influenced in a constructive way by this one man who never shouted, and whose formally stated philosophy often is a stiff dose for more subtle minds.'