Click following link to check out a collection of classic articles that all psychology students should read.



Psychology Classics On Amazon





"Thinking is Difficult, That's Why Most People Judge"
David Webb (Owner, writer & host of All-About-Psychology.Com)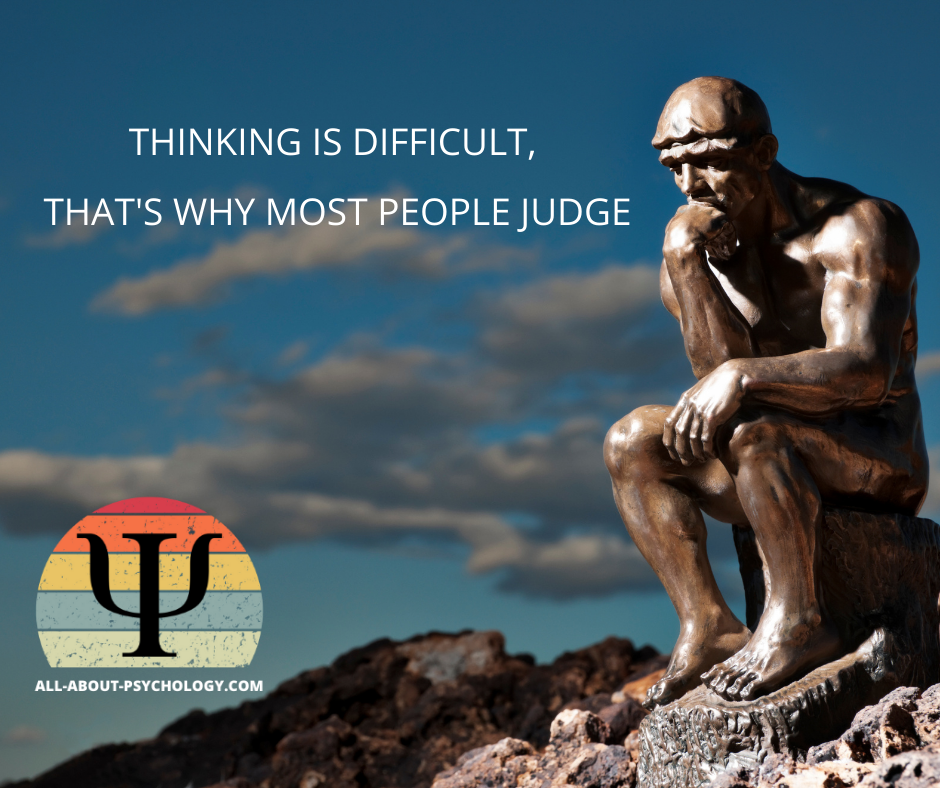 I've always loved this quote and like many people believed it was from Carl Jung; but it turns out that he never actually said it. However, he did say Thinking is difficult, therefore let the herd pronounce judgment!, which may explain the misappropriation. Jung's similar quote appears on page 46 of 'Flying Saucers: A Modern Myth of Things Seen in the Skies', first published in English in 1959 and later included as part of the Collected Works of C.G. Jung - Civilization in Transition - Volume 10.
This is just one of many misattributed quotes out there. For example, did you know that there is no evidence to suggest that Sigmund Freud actually said "Sometimes a cigar is just a cigar." We shouldn't be too surprised though because as Abraham Lincoln points out "The problem with quotes on the Internet is that it is hard to verify their authenticity." ; )

---
This cognitive error T-Shirt is available from Amazon (prime eligible) in a range of colors for women and men. Sales help support this website, which has been providing free and comprehensive information and resources for psychology students and educators since 2008.

---
Nov 30, 22 04:58 AM

Originally presented as an address before the Kant Society in 1924, 'Gestalt Theory' by Max Wertheimer is a classic text in the history of Gestalt Psychology.

Nov 27, 22 04:46 AM

Great article on why negative memories of embarrassing things just pop into our heads, and why we still feel so embarrassed, when the occasion is long past.

Nov 26, 22 12:59 PM

Teleological behaviourism or what it means to imagine a lion. Thought-provoking article on the concept of teleological behaviourism by Howard Rachlin, Emeritus Research Professor of Psychology, Stony…
Please help support this website by visiting the All About Psychology Amazon Store to check out an awesome collection of psychology books, gifts and T-shirts.

Back To The Top Of The Page