Personality Psychology

Thinking About Becoming A Psychology Student?
Find A Psychology School Near You

Personality Psychology
(Photo Credit: Thomas Hawk)
What is Personality Psychology?
Dan McAdams offers a clear and concise account of personality psychology in his book
The Person: A New Introduction to Personality
. Adams notes that personality-psychology is the study of the whole person and that the ultimate goal of personality-psychology is to construct a scientifically credible account of human individuality. As part of this quest individual differences in people are often studied and in doing so an attempt is made as Adam's puts it "
To classify, categorize, and organize the diversity of human individuality
."
Learn About Personality Psychology
Lecture on Personality by John Gabrieli delivered as part of the Introduction to Psychology course at The Massachusetts Institute of Technology (MIT)
Personality Theories E-Text:
Dr. George Boeree, professor in psychology at Shippensburg University has written an excellent electronic textbook created for undergraduate and graduate courses in Personality Theories. Dr Boeree has kindly made this publication freely available for educational purposes. This very useful resource includes informative accounts of the personality theories put forward by the most influential thinkers in the field. These include
Sigmund Freud
Erik Erikson
Carl Jung
Alfred Adler
Hans Eysenck
Abraham Maslow
Carl Rogers
CLICK HERE To Access This Comprehensive Personality Theory Resource.


The Personality Project:
Very thorough information portal provided courtesy of William Revelle, Professor of Psychology at Northwestern University, Illinois; the aim of which is to "guide the interested student, researcher or serious layperson to recent developments in the field of personality research."
CLICK HERE To Explore The Personality Project Website.


Recommended Reading
Personality Psychology: Domains of Knowledge About Human Nature By Randy Larsen & David Buss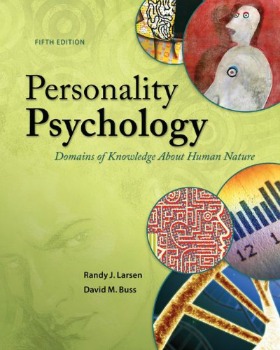 Book Description

Randy Larsen and David Buss dynamically demonstrate how scientists approach the study of personality in Personality Psychology: Domains of Knowledge About Human Nature. Major findings, both classical and contemporary, are presented in the context of six key domains—Dispositional, Biological, Intrapsychic, Cognitive/Experimental, Social and/Culture, and Adjustment—providing a foundation for the analysis and understanding of human personality.

See following link for more details:

Personality Psychology: Domains of Knowledge About Human Nature
USA Psychology Programs Search
Find The Perfect Program For You Today!
Find A Psychology School Near You

Back To Top Of The Page


Go Back To The Types of Psychology Page


Go From Personality Psychology Back To Home Page