Advertise Here!
www.all-about-psychology.com/psychology-advertising.html
What is Wrong?
by Evan
(United States)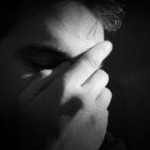 OK, I've noticed this for some time now, but I just don't know where else to turn. I get this heavy feeling in my head, I feel like I can't have fun, even around friends. I feel emotionally numb, like the only emotions I feel are sadness, anger, and irritation.

I feel like I cant talk without saying something weird or hurtful even though I don't mean it. I mean I was bullied a lot when I was in middle school all through high school, so I don't know if what I'm feeling is a mix of depression and/or Post Traumatic Stress Syndrome, or something else that I don't know about.

What are your thoughts?

Related Information on The All About Psychology Website

Depression

Depression Treatment


If you like this website please support my
All About Psychology Patreon Page
so that I can continue to create free content and resources for psychology students and educators.