Click following link to check out a collection of classic articles that all psychology students should read.



Psychology Classics On Amazon





Positive Psychology
What is Positive Psychology?
The Positive Psychology Center at The University of Pennsylvania, defines positive psychology as the scientific study of the strengths and virtues that enable individuals and communities to thrive. To appreciate the levels at which positive psychology operates we can turn to the thoughts of two of the leading commentators on the subject Martin Seligman and Mihaly Csikszentmihalyi, who note that:

"The field of positive psychology at the subjective level is about valued subjective experiences: well-being, contentment, and satisfaction (in the past); hope and optimism (for the future); and flow and happiness (in the present). At the individual level, it is about positive individual traits: the capacity for love and vocation, courage, interpersonal skill, aesthetic sensibility, perseverance, forgiveness, originality, future mindedness, spirituality, high talent, and wisdom. At the group level, it is about the civic virtues and the institutions that move individuals toward better citizenship: responsibility, nurturance, altruism, civility, moderation,tolerance, and work ethic."

Interview With Mihaly Csikszentmihalyi
See following link for a fascinating interview with the late, great Mihaly Csikszentmihalyi, in which he shares the stories behind his scientific interests, sources of scientific ideas and the process of promoting the concepts he had written about. 

Interview With Mihaly Csikszentmihalyi

Embrace Your Superpower

Dr. Robert Zeitlin is a positive psychologist specializing in coaching parents to "do less and enjoy more" with their kids. He is the author of "Laugh More, Yell Less: A Guide to Raising Kick-Ass Kids." In this excellent TED talk, Dr. Zeitlin speaks about how you can be your best self and "embrace your superpowers."

Quality Positive Psychology Resources

The mission of the Positive Psychology Center (PPC) at the University of Pennsylvania is to promote research, training, education, and the dissemination of Positive Psychology. The PPC is internationally recognized for empirical studies in Positive Psychology and resilience and the Center's scholars are world-renowned experts in the fields of Positive Psychology, resilience, and grit.


Click Here to check out this must visit and bookmark website.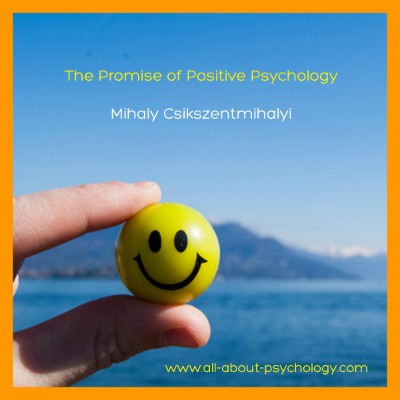 Click Here to download and read a very insightful article on positive psychology by Mihaly Csikszentmihalyi. 
---
This Positive Psychology T-Shirt is available from Amazon (prime eligible) in a range of colors for women and men. Sales help support this website, which has been providing free and comprehensive information and resources for psychology students and educators since 2008.

---
Dec 11, 23 04:50 AM

What is the sunk cost fallacy? Insightful article by behavioral economics expert, Dr. Aaron Nicholas.

Dec 07, 23 06:37 AM

Useful article on how to make time for a psychology course when you work full-time.

Dec 04, 23 03:28 AM

How to Get Someone Out of a Cult. Insightful article by Dr. Suzanne Newcombe, Senior Lecturer in Religious Studies at The Open University.
Please help support this website by visiting the All About Psychology Amazon Store to check out an awesome collection of psychology books, gifts and T-shirts.

Back To The Top Of The Page
Go Back To The Types of Psychology Page

Go From Positive Psychology Back To The Home Page