Advertise Here!
Positive Psychology
Want To Study Psychology?

What is Positive Psychology?
The Positive Psychology Center at The University of Pennsylvania, defines positive psychology as the scientific study of the strengths and virtues that enable individuals and communities to thrive. To appreciate the levels at which positive psychology operates we can turn to the thoughts of two of the leading commentators on the subject Martin Seligman and Mihaly Csikszentmihalyi, who note that:

| | |
| --- | --- |
| "The field of positive psychology at the subjective level is about valued subjective experiences: well-being, contentment, and satisfaction (in the past); hope and optimism (for the future); and flow and happiness (in the present). At the individual level, it is about positive individual traits: the capacity for love and vocation, courage, interpersonal skill, aesthetic sensibility, perseverance, forgiveness, originality, future mindedness, spirituality, high talent, and wisdom. At the group level, it is about the civic virtues and the institutions that move individuals toward better citizenship: responsibility, nurturance, altruism, civility, moderation,tolerance, and work ethic."  | Find A Psychology School Near You |
Martin Seligman, shares his groundbreaking ideas on flourishing as individuals and contributing to a happier world.

Quality Positive Psychology Resources

The mission of the Positive Psychology Center (PPC) at the University of Pennsylvania is to promote research, training, education, and the dissemination of Positive Psychology. The PPC is internationally recognized for empirical studies in Positive Psychology and resilience and the Center's scholars are world-renowned experts in the fields of Positive Psychology, resilience, and grit.


Click Here to check out this must visit and bookmark website.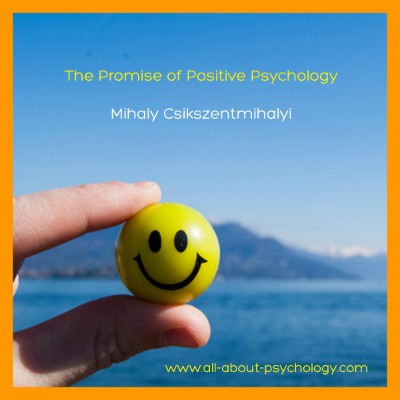 Click Here to download and read a very insightful article on positive psychology by renowned author and professor of psychology Mihaly Csikszentmihalyi. 
Flow, The Secret To Happiness
In this thought provoking TED talk Mihaly Czikszentmihalyi asks, "What makes a life worth living?" by looking to those who find pleasure and lasting satisfaction in activities that bring about a state of "flow." 

Recommended Reading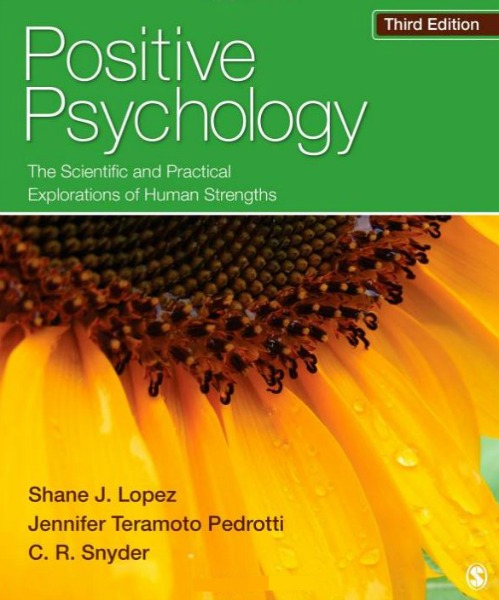 The fully updated Third Edition of this best seller covers the science and application of positive psychology and presents new frameworks for understanding positive emotions and strengths through a culturally competent lens. The authors bring positive psychology to life by addressing important issues such as how positive psychology can improve schooling and the workplace, as well as how it can promote flourishing in day-to-day life. 
Throughout the book, well-crafted exercises allow readers to apply major principles to their own lives. The book also explores various positive conditions within multiple cultural contexts, such as happiness and well-being, and processes related to mindfulness, wisdom, courage, and spirituality.
See following link for full details.
Positive Psychology: The Scientific and Practical Explorations of Human Strengths
Nov 20, 17 07:12 AM

Darwin And Psychology: Fascinating article outlining Charles Darwin's major contributions to psychology.

Nov 20, 17 06:05 AM

Social psychology: Learn all about the fascinating branch of psychology devoted to the study of how social factors influence people's thinking, feelings, and behaviors.

Nov 19, 17 04:01 PM

The Psychology eBook Collection: Completely free access to the most important and influential journal articles ever published in the history of psychology.
Back To The Top Of The Page
Go Back To The Types of Psychology Page