Industrial Organizational Psychology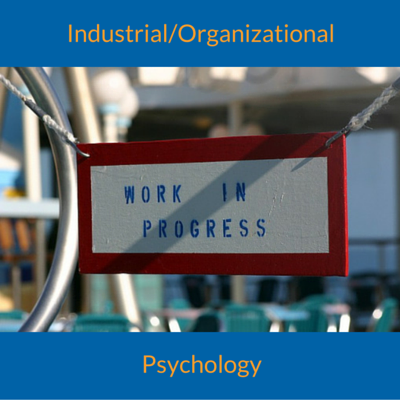 (Photo Credit: Grant Kwok)
What is Industrial Organizational Psychology?
The American Psychological Association notes that 'Industrial and Organizational Psychology is a recognized specialty in professional psychology...characterized by the scientific study of human behavior in organizations and the work place. The specialty focuses on deriving principles of individual, group and organizational behavior and applying this knowledge to the solution of problems at work.'
Industrial-organizational psychologists are employed within a broad range of work based settings (manufacturing, corporate, health, academia etc) and apply their skills and knowledge towards an equally broad range of organizational and workplace issues; such as, job satisfaction, leader/management development, teamwork, employee safety, training, testing and assessment.
N.B. Outside the United States, Industrial/Organizational Psychology is more commonly known as 'occupational psychology' or 'work/business psychology.'
Recommended Reading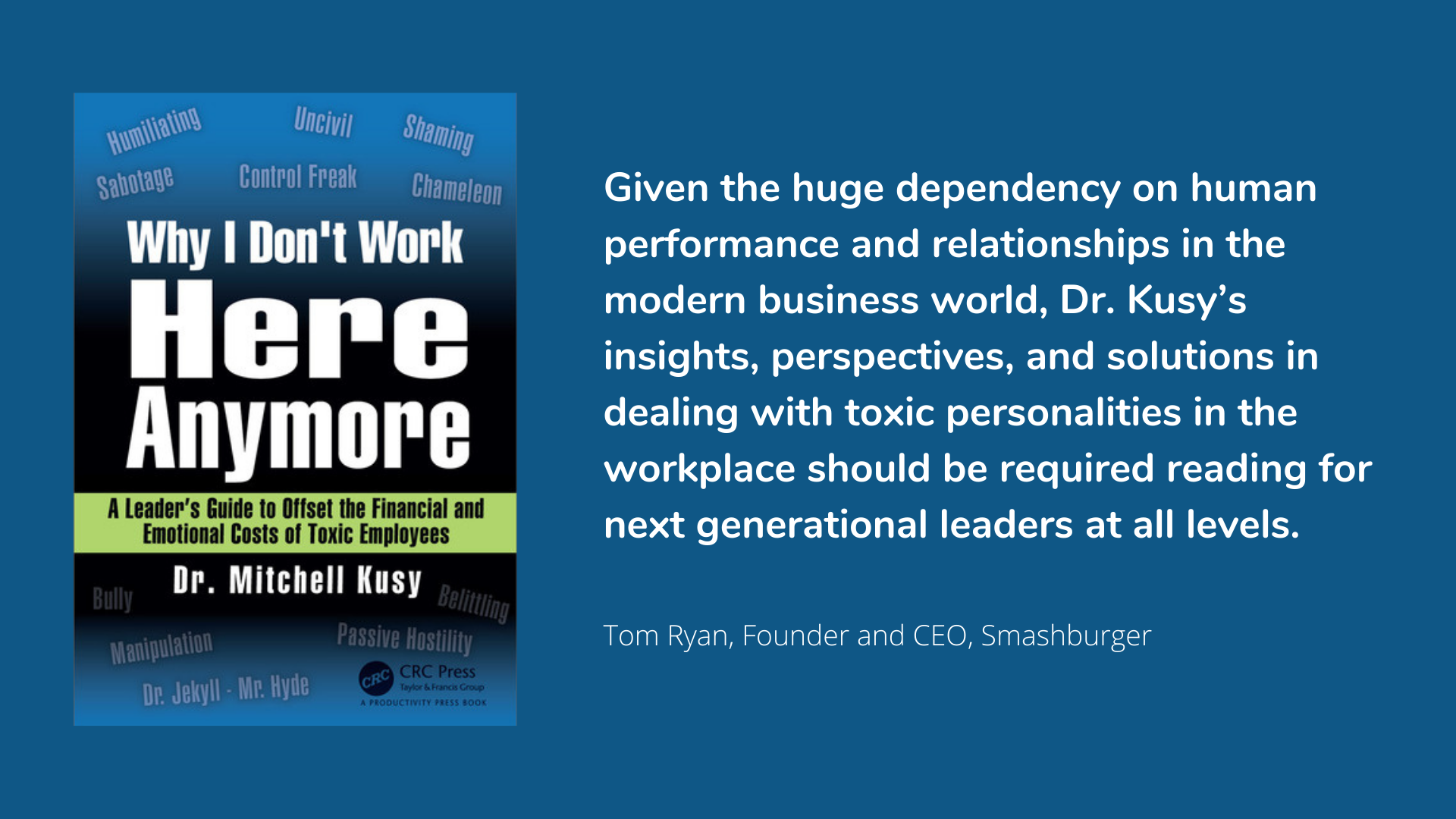 Toxic employees levy a huge tax on your team and your enterprise. Why I Don't Work Here Anymore does a brilliant job navigating you and your business from toxicity to transformation. Dr. Kusy has crafted another must-read! (Kevin Cashman, Korn Ferry, Global Leader of CEO and Executive Development)
You have likely heard stories from friends, family members, and colleagues who quit a job because of a toxic person—an individual who belittles, shames, humiliates, shames, or bullies. You may not have realized that these individuals not only take their tolls on our emotional psyches, but the financial outcomes of their organizations as well. Through this book's many case examples, as well as evidence-based practices and templates, each chapter singles out one main issue and how to resolve it with respect and clarity. Dr. Kusy presents concrete practices that will restore civility and respect into your organization as well as with increased financial performance. Some of these practices include:
Calculating the real financial cost of toxic people in your organization. 
Providing direct and respectful feedback to a toxic peer, direct report, and even your boss. 
Replacing traditional exit interviews - that often don't work very well - with a method for dealing with toxic chameleons who "knock down and kiss up." 
Hiring, engaging talent, and even firing people based on a new approach to values-based performance management. 
You will emerge with a newfound understanding that restores personal well-being and increased financial performance.
Dr. Mitch Kusy hits the mark with his real-life, data-driven perspectives on toxic employees. If you have ever encountered a colleague or employee who compromises your work environment, this book is a 'must-read' to understand what to do in these challenging situations. (L. Kelley Lindquist, Artspace President and CEO)
Click Here For Full Details of this critically acclaimed book.
TV appearance featuring Dr. Mitchell Kusy discussing toxic workplaces
Interview With Business Psychologist Dr. Celine Mullins
Dr. Celine Mullins has over 15 years experience as a Psychologist, Coach and Training Consultant working across Multinationals, SME's, Governmental and Educational agencies. Dr. Mullins is the CEO and Founder of Adaptas, a Leadership Development Training organisation, developing managers and leaders and teams, in Ireland and Internationally. She founded adaptas to put a gigantic spin on more traditional approaches to learning, which she believes often fall short of making real and lasting change happen.
With a focus on narrowing the gap between the training room and the real world, and using what we know about the brain and behaviour from psychology and neuroscience, Celine's specialties include; leadership communication, eradicating behaviours and limiting beliefs that restrict performance and relationships, while improving team communication and collaboration. You can access the interview with Dr. Celine Mullins via the following link.
Exceptional Career Opportunities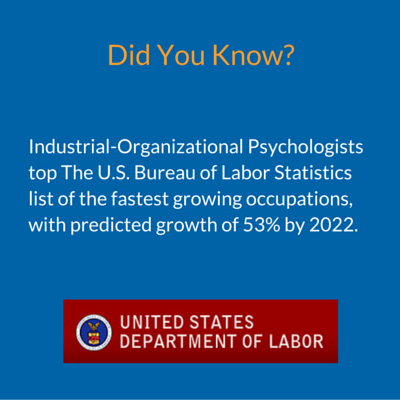 The American Psychological Association (APA) provides some very useful information on pursuing a career in Industrial and Organizational Psychology. Such as:
The career path to becoming an I/O psychologist begins with a bachelor's degree in psychology.
According to the Society for Industrial and Organizational Psychology's 2012 income and employment survey, the starting salary for an I/O specialist with a master's degree was approximately $65,000 a year.
Overall, the median annual salary for I/O psychologists is $80,000. The highest earners can make $250,000 or more each year. 
You can read the APA I–O psychology career information in full HERE.
A Day in the Life of an I-O Psychologist
This excellent webinar introduces the field of industrial-organizational psychology and discusses the daily activities of I-O psychologists employed in various sectors of the workforce. Panelists with different I-O-related careers answer questions about several aspects of their work, including job duties, demands, and rewards, as well as the qualities needed for success!

Quality I-O Links
Division 14 of the American Psychological Association and organizational affiliate of the Association for Psychological Science, the Society for Industrial and Organizational Psychology is the leading membership organization for those involved in the practice and teaching of I-O psychology.
GO HERE to visit the SIOP website from where you can access an outstanding collection of information and resources. 

The Hawthorne Effect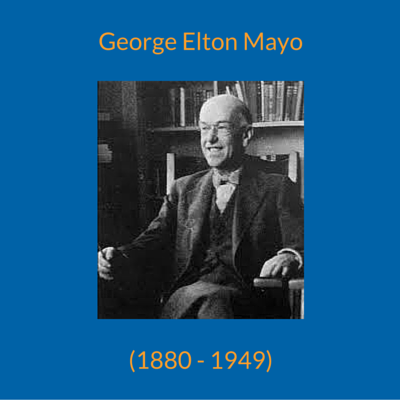 The study and practice of psychology in the workplace has a long and distinguished history. One of its most famous pioneers was George Elton Mayo, who was renowned for his work in the field of Industrial Management and Human Relations (an influential research movement concerned with the study of organizational development within work groups.) 
Mayo is best known for his involvement with the famous Harvard business school productivity studies conducted at the Hawthorne Western Electric Company in Cicero, Illinois which gave rise to the discovery of the 'Hawthorne Effect', a psychological phenomenon where participants in behavioral experiments modify their performance as a result of being observed.
CLICK HERE to listen to a fascinating BBC radio broadcast on 'The Hawthorne Effect.' 
Apr 20, 21 03:24 AM

How to Stop Being Your Own Worst Enemy. Excellent article on pursuing happiness, by renowned psychotherapist and author, Ahron Friedberg, M.D.

Apr 19, 21 11:32 PM

Learn all about 'abnormal psychology,' including an important discussion on whether the term abnormal psychology is actually fit for purpose.

Apr 19, 21 11:31 PM

Child psychology information and resources.
Back To The Top Of The Page
Go Back To The Types of Psychology Page

Go From Industrial Organizational Psychology Back To The Home Page