Developmental Psychology

Thinking About Becoming A Psychology Student?
Find A Psychology School Near You

Developmental Psychology
(Photo Credit: Dave Bleasdale)
What is Developmental Psychology?
Writing in their introduction to developmental psychology book, Alan Slater and Gavin Bremner define developmental-psychology as "The discipline that attempts to describe and explain the changes that occur over time in the thought, reasoning and functioning of a person due to biological, individual and environmental influences".
The authors note further that developmental psychology involves the study of children's development as well as the development of human behavior across the lifespan.
Learn About Developmental Psychology

George Mason University's Online Resources for Developmental Psychology, is an organized, accessible, and expert reviewed collection of useful websites for teaching and learning about human development.
All the links and information resources are arranged into categories for easy access. Namely:


Theories of Development
Developmental Research Methods
Prenatal Development & Birth
Social & Emotional Development
Cognitive Development & Intelligence
Language Development
Physical Development
Moral Development
Parenting & The Family
Education
Children With Special Needs
Adolescence
Adult Development & Aging
Death & Dying
Applied Issues
General Development Resources
Student Resources

Click Here To Access This Comprehensive Resource.



Series of very informative podcasts taken from the lectures of Lori Markson from the University of Berkeley, California.
The podcasts explore the development of children from birth to adolescence, in a wide range of areas including biological, cognitive, linguistic, social, and personality development. It also covers the effects of genes, experience, and social context on children's development.
Click Here
to access all the podcast lectures for free via iTunes.
Recommended Reading
An Introduction to Developmental-Psychology by Alan Slater & Gavin Bremner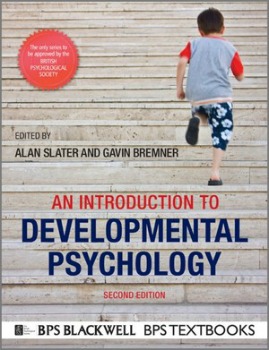 Book Description

An Introduction to Developmental Psychology is a representative and authoritative 'state of the art' account of human development from conception to adolescence. The text is organised chronologically and also thematically and written by renowned experts in the field. This is a truly international account of theories, findings and issues in human development.

See following link for more details:

An Introduction to Developmental Psychology
USA Psychology Programs Search
Find The Perfect Program For You Today!
Find A Psychology School Near You

Back To Top Of The Page


Go Back To The Types of Psychology Page


Go From Developmental Psychology Back To Home Page