Real Life Cases of Amnesia
That Are Stranger Than Fiction

By Dr. Christian Jarrett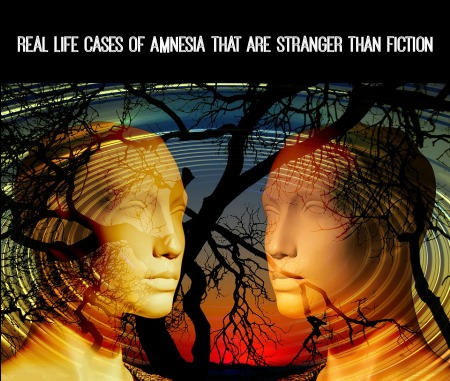 Dr Christian Jarrett has a PhD in cognitive neuroscience and is a chartered psychologist and associate fellow of the British Psychological Society (BPS).

The following article was originally posted on Psychology Today on June 20, 2013.
Patients with amnesia usually know who they are, but they have problems storing new memories. You wouldn't realise this from the movies. Films like The Bourne Identity show us the opposite pattern - characters who have forgotten who they are, but who have no trouble with their everyday memory. This mismatch has led to criticism of Hollywood, most notably by Sallie Baxendale in her entertaining BMJ paper published in 2004. "Most amnesic conditions in films bear little relation to reality," she wrote.
However, a psychologist and a neurologist in Switzerland have made the case in a new book chapter (from Literary Medicine: Brain Disease and Doctors in Novels, Theater, and Film) that while Hollywood and many novels certainly present a distorted view of a typical amnesiac, there are in fact many historical real-life cases of amnesia that are just as outlandish, or more so, as those found in fiction.

Moreover, these authors - Sebastian Dieguez and Jean-Marie Annoni - argue that fictional portrayals of memory and amnesia are a useful scientific resource for understanding people's conception of memory, and they point out that fictional portrayals can feedback and influence the manifestation of memory disorders in real life. Consider the Hollywood obsession with characters like Jason Bourne who have forgotten who they are.

The Bourne Identity Trailer
It's true that dissociative fugue states of this kind are rare, but Dieguez and Annoni argue they do exist, they are little understood, and they are often bizarre. One of the most incredible real-life stories involves the "living dead" - 10 French soldiers who returned from the First Wold War with no recollection of their identities. One of the 10, who called himself Anthelme Mangin (but knew nothing else of his past) was claimed by over 300 families after his case was publicised. "Despite extensive testing and innumerable court-ordered expert appraisals," write Dieguez and Annoni, "Mangin's real identity ... would never be officially recognised."
"Anthelme Mangin" A Real-Life Jason Bourne
Another favoured Hollywood plot device (also mentioned in Baxendale's critique) involves an amnesiac character suddenly rediscovering their life's memories after being exposed to a particularly familiar or emotional object or situation. For example, Baxendale cites the 1950 film The Woman With No Name, in which the trigger for the eponymous character is a wood pannelled door.

Such sudden surges of memory may seem preposterous, but Dieguez and Annoni highlight two real-life cases documented by Federica Lucchelli and her colleagues in Italy. One amnesiac man recovered all his life's memories while lying on an operating table, presumably because it transported him back 25 years earlier to a previous operation. Another amnesiac man enjoyed a surge of restored memory on a tennis court when a poor shot reminded him of an error he'd made years earlier.

Lastly, let's look at the fictional form of amnesia in which a person's memory is wiped clean each night. This is what happens to Drew Barrymore's character in 50 First Dates, and it happens to the main character in S.J. Watson's hit novel Before I Go To Sleep.
50 First Dates Trailer
It's tempting to dismiss such portrayals as factually inaccurate - memory simply doesn't work that way. But here we have an excellent example of how fictional portrayals of brain disorder can influence real-life manifestations of symptoms. In 2010, researchers led by Christine Smith reported the case of a female car-crash victim known as FL, who said her memory was erased each night. The researchers tricked FL into thinking they were testing her on material learned the same day, but which she'd actually learned the day before, and this revealed that her nightly amnesia was psychogenic. That is, it had psychological rather than neurological causes. Smith's team think FL was probably influenced by that Drew Barrymore film.
Dieguez and Annoni's book chapter certainly gave me pause for thought. I've been researching misconceptions about brain disorders for a book I'm writing and I've uncovered a lot of material about factual inaccuracies. Their perspective has made me strive for a less dogmatic view of the subject. As they write, "the view that literary amnesia is clinically inaccurate or far-fetched is at best too simplistic, and at worst misguided." Rather than judging the clinical accuracy of fictional amnesia potrayals, they say "we should ask instead what are the uses of amnesia in literature and how do authors and readers conceive of memory and its disorders. As such, cases of literary amnesia become valuable data, just like real-life cases but for different reasons."
---
This Psychology Symbol - Vintage Retro Striped Sunset T-Shirt is available from Amazon (prime eligible) in a range of colors for women and men. Sales help support this website, which has been providing free and comprehensive information and resources for psychology students and educators since 2008.

---
Dec 08, 22 04:45 AM

Black Panther 2: Why the death of someone young can be harder to handle. Insightful article by Dr. Sam Carr and Dr. Chao Fang, University of Bath.

Dec 07, 22 04:00 AM

The Human Mind: How much energy do you use when you think? At what time of day is your mental performance best? Does talking to yourself help your thinking?...

Dec 05, 22 04:00 PM

Pareidolia: Learn all about the psychological phenomenon that makes us see faces in random places.
Please help support this website by visiting the All About Psychology Amazon Store to check out an awesome collection of psychology books, gifts and T-shirts.

Back To The Top Of The Page
Go To The Dr. Christian Jarrett Interview Page