Advertise Here!
Psychology Student Guide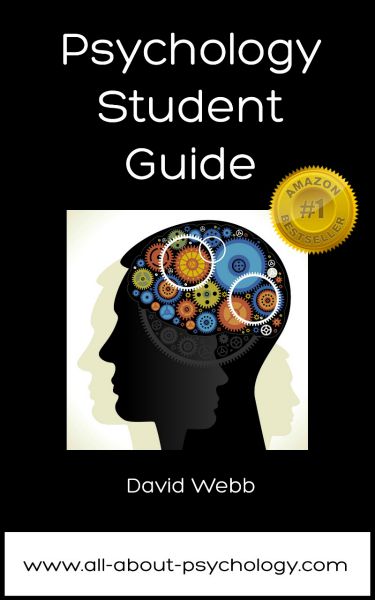 International #1 Best Seller!
Calling All Psychology Students! You Need To Read This Guide!
Drawing on the author's experience as both a student and then a University lecturer in Psychology, this guide is designed to inform psychology students at every stage of their educational journey.

What Psychology Students Are Saying About The Guide:
"I'm pursuing a degree in psychology - Thanks for making my life easier." (Caroline, United States)
"This is an excellent guide. It has everything I could possibly ask about psychology and was extremely helpful in my research." (Rebecca, United Kingdom)
"I am currently studying the Psychology of Criminal Behaviour at University. The Psychology Guide is an excellent resource to have. This will help me a lot with my study, assignments, reports, essays etc. Thank you so much for creating this resource. It is a joy to read." (Liza, Ireland)
"I started my degree two weeks ago, the guide is a Godsend. THANK-YOU." (Peggy, Australia)
"This guide is simply amazing. I am a junior in high school considering psychology as a career and this guide truly informed me. Great work!" (Danielle, United States)
Guide Highlights
Priced super low with students in mind.
Contains an invaluable collection of outstanding resources.
Provides information on every type of psychology you can think of.
Includes detailed guidance notes to help you with your psychology project.
Gives you access to free peer reviewed journal articles.
Shows you why research methods and statistics should be embraced, not feared.
Tells you all you need to know about the study and practice of psychology.
Lets you explore the less serious side of psychology.
Invites you to connect with thousands of psychology students online.
You can buy the Psychology Student Guide on Amazon via the following link.
Sep 24, 18 10:00 AM




Albert Bandura's landmark book "Social Learning Theory" was published in which the Stanford University psychologist sets out how new patterns of behavior can be acquired through direct experience or b…

Sep 23, 18 10:00 AM




Norma Estelle Cutts was born. A pioneer in the provision of school psychological services in the United States, her landmark publication in 1943 "How to Use Psychological Service in the Schools, A Gui…

Sep 22, 18 10:00 AM




Robert Thorndike was born. A brilliant psychometrician, Thorndike is best known for his collaborative work with Irving Lorge and Elizabeth Hagen in developing measures of mental and scholastic ability…
If you like this website please support my
All About Psychology Patreon Page
so that I can continue to create free content and resources for psychology students and educators.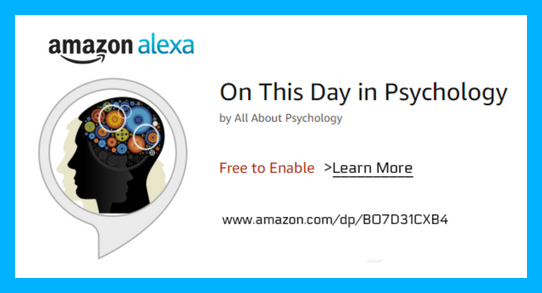 Back To The Top Of The Page