Advertise Here!
Psychology Student Guide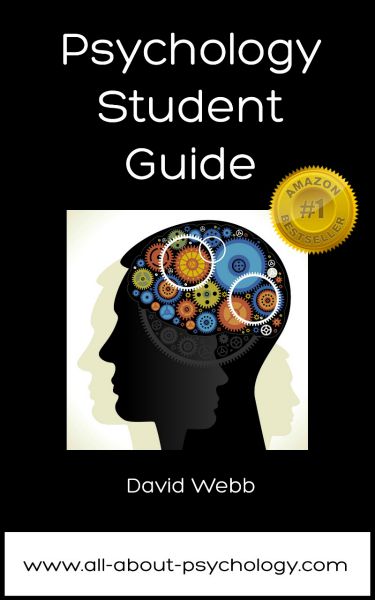 International #1 Best Seller!
Calling All Psychology Students! You Need To Read This Guide!
Drawing on the author's experience as both a student and then a University lecturer in Psychology, this guide is designed to inform psychology students at every stage of their educational journey.

What Psychology Students Are Saying About The Guide:
"I'm pursuing a degree in psychology - Thanks for making my life easier." (Caroline, United States)
"This is an excellent guide. It has everything I could possibly ask about psychology and was extremely helpful in my research." (Rebecca, United Kingdom)
"I am currently studying the Psychology of Criminal Behaviour at University. The Psychology Guide is an excellent resource to have. This will help me a lot with my study, assignments, reports, essays etc. Thank you so much for creating this resource. It is a joy to read." (Liza, Ireland)
"I started my degree two weeks ago, the guide is a Godsend. THANK-YOU." (Peggy, Australia)
"This guide is simply amazing. I am a junior in high school considering psychology as a career and this guide truly informed me. Great work!" (Danielle, United States)
Guide Highlights
Priced super low with students in mind.
Contains an invaluable collection of outstanding resources.
Provides information on every type of psychology you can think of.
Includes detailed guidance notes to help you with your psychology project.
Gives you access to free peer reviewed journal articles.
Shows you why research methods and statistics should be embraced, not feared.
Tells you all you need to know about the study and practice of psychology.
Lets you explore the less serious side of psychology.
Invites you to connect with thousands of psychology students online.
You can buy the Psychology Student Guide on Amazon via the following link.
Oct 15, 20 01:27 AM

The Power of Suffering is psychologist David Roland's personal investigation into the nature of human suffering. When our world is turned upside down, what does it do to us, how do we survive it, and…

Oct 13, 20 02:57 PM

Why are some people more competitive than others? It turns out competitiveness says a lot about who we are. Learn more through East Oregon University.

Oct 12, 20 02:14 AM

The Inner Human podcast is devoted to providing interesting and novel insights into the field of psychology.
Back To The Top Of The Page