Click following link to check out a collection of classic articles that all psychology students should read.



Psychology Classics On Amazon





Psychology News - June 2016




Thinking About Becoming A Psychology Student?

Find A Psychology School Near You


The All About Psychology Newsletter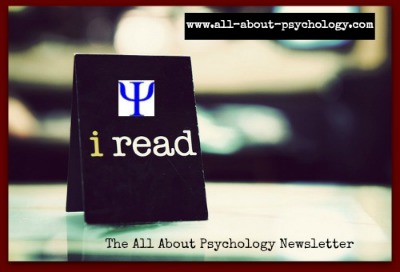 (Photo Credit: Daniel Go - via flickr Creative Commons)
Latest Newsletter
A very warm welcome to the latest edition of the All About Psychology Newsletter.
CONTENTS
Latest News
Expert Q & A
Top Free Journal
Food For Thought
Did You Know?
Just For Fun
Latest News
Deviance
I've just added a Deviance page to the forensic psychology website. See following link to learn all about the nature and study of this fascinating topic.
Expert Q & A 
Angela Bloomquist, Ph.D., is Associate Professor of Psychology and program coordinator for the graduate-level school psychology master of science and certification program at the California University of Pennsylvania. 
A certified school psychologist with over a decade of field experience, Dr. Bloomquist presents in-service training programs to local educators on a variety of topics related to school psychology and serves as a National Association of School Psychologist (NASP) program reviewer for school psychology graduate programs across the United States. 
You can access the interview with Dr. Angela Bloomquist via the following link. 
Dr. Angela Bloomquist Interview
Top Free Journal
The International Journal of Psychological Studies

The International Journal of Psychological Studies (IJPS) is a free international, double-blind peer-reviewed, open-access journal. Research topics covered in the journal include:
General psychology
Cognitive psychology
Neuropsychology
Developmental psychology
Educational psychology
Social psychology
See following link to access every article published in the journal since its launch in 2009.
Food For Thought
Great quotes that make you think!
Did You Know?
Fab facts all psychology lovers should know!
On the 14th June, 1920, Francis Cecil Sumner became the first African American to earn a Ph.D. in psychology in the United States. Working with G. Stanley Hall at Clark University, Sumner's landmark doctoral thesis was titled "Psychoanalysis of Freud and Adler."
From 1928 until his death in 1954, Sumner served as the chair of the psychology department at Howard University.
Information via:
On This Day in Psychology: A Showcase of Great Pioneers and Defining Moments

Just For Fun
hindsight is (not always) a wonderful thing.
(Fab cartoon via It's The Tie Comics)

Great T-Shirt Designs for Psychology Lovers!

CLICK HERE to see the full range of designs available.

---
Back To Top Of The Page
Go Back To The Latest Psychology Newsletter Page