Click following link to check out a collection of classic articles that all psychology students should read.



Psychology Classics On Amazon





Nomophobia
David Webb (Owner, writer & host of All-About-Psychology.Com)
What is Nomophobia?
Nomophobia (No-Mobile-Phone Phobia) refers to the fear of being without a mobile phone or being unable to use it. 
The term nomophobia is widely reported to have first appeared in 2010 (although it was actually 2008) following a research survey by YouGov on behalf of the UK postal service, which found that 53 percent of mobile phone users in Britain reported being anxious should they "lose their mobile phone, run out of battery or credit, or have no network coverage."

Nomophobia continues to be a rising trend in students, a YouGov survey conducted in the United States found that 38% of teens think they couldn't last even a day without their smartphone; and a systematic review on nomophobia prevalence found that women and younger individuals suffer more from nomophobia.
A Great Topic To Explore
A great way to get students thinking about psychological issues, ideas and concepts has always been to relate them to something they are familiar with or have a great affinity towards. The smartphone is something that ticks both of these boxes and as such, the topic of nomophobia can be used as the basis for a variety of psychological discussions.
Simply by asking the question - How long do you think you could last without your smartphone? - is almost guaranteed to provoke a lively class discussion, from which you could then go on to explore a range of issues. For instance, this would be a great topic for a research methods class. Here's an example of a simple activity:
Imagine you are conducting a research project on nomophobia.
How would you go about measuring nomophobia?
What methods of data collection would you use and why?
What steps would you take to ensure that your findings were reliable?
This is just one of numerous approaches you could take to explore nomophobia within a psychology class. As someone who has never suffered from nomophobia and is unlikely to do so anytime soon, I'd personally like to investigate nomophobia in relation to the psychology of social norms. You see, until recently, I didn't actually have a smart phone, cell phone, mobile phone or whatever you want to call it.
This was not only a source of constant embarrassment for my two teenage sons but also a topic of conversation that was often met with utter disbelief when I mentioned this fact in public. No matter how much I explained that I didn't feel the need for one and that there once a time before cell phones and everybody managed to cope just fine; I was often left with an overwhelming sense, that the person I had just talked to, genuinely believed that there must be something wrong with me!
Trip down memory lane anyone?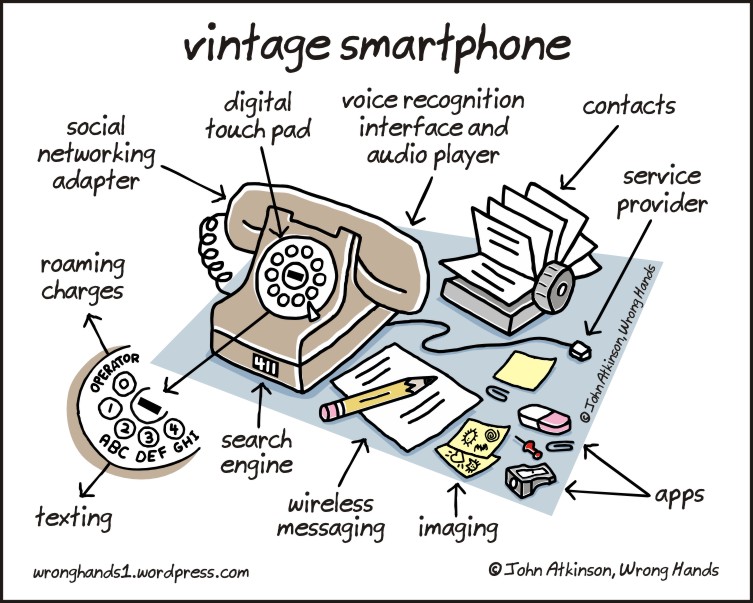 (Cartoon by John Atkinson)
About The Author
David Webb is the owner, writer and host of four websites built around his teaching and research interests; including All-About-Psychology.Com which receives over two million visits a year.
A passionate promoter of psychology through social media, over 890,000 people follow his psychology Facebook page and he is featured on the British Psychological Society list of the 100 most followed psychologists and neuroscientists on Twitter.
A bestselling author, his published work includes: The Psychology Student Guide - The Incredibly Interesting Psychology Book and, On This Day in Psychology.
Feb 06, 23 09:53 AM

Find out why an online psychology degree can provide flexible, accessible and cost-effective education.

Feb 05, 23 08:55 AM

Fascinating article on the the ideas carl Jung developed during a period of intense crisis and creativity, culminating in the creation of "The Red Book."

Feb 05, 23 04:48 AM

A Critical Investigation into Precognitive Dreams: Dreamscaping without My Timekeeper is an incredible exploration into the world of precognitive dreams and the extensive history behind them.
Please help support this website by visiting the All About Psychology Amazon Store to check out an awesome collection of psychology books, gifts and T-shirts.
Back To The Top Of The Page
Go From Social Loafing Back To The Home Page