Living and Loving with Autism
Julie Cross, CSP
Welcome to our journey of living and loving with Autism
This is a book for everyone - a book you asked for. When I first started sharing our journey on social media, I realised just how much our story resonated with my tribe. But it wasn't just people who had autism in their family, it was also the broader community that wanted to learn, and that were inspired by Thomas and how he moved through the world. These stories may make you cry, then make you laugh. While I trust they will educate and inform, most of all I hope they make you feel less alone. I hope they make you feel a part of something bigger than what is happening within your own four walls. And in knowing this I hope you feel you have someone to celebrate your wins with, someone to commiserate your struggles with, someone to keep it real with, and someone to laugh about the ridiculous with.

After gaining some insight in day-to-day life with autism, a friend said to me, 'Julie, I don't know how you do it.' Well, my immediate response was, 'How don't I do it?' and 'How don't we do it?' We have a choice in how we do it, and sometimes we will forget that—sometimes we will do it madly and badly and sadly, and then we will find gladly … and that is true for just doing life itself, whatever your story.
---
Living and Loving with Autism is available to buy from your local bookseller and online internationally from Amazon.

---
About The Author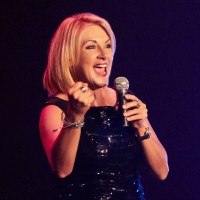 An inspirational speaker and author, Julie's qualifications and expertise stem from an early start in the workforce and through gaining a real life diploma by taking responsibility for her own personal and professional development while coping with personal and professional challenges, many of which she shares during her powerful and moving presentations. Today Julie is one of the industry's most sought-after speakers thanks to her unique style and commitment to empowering her audiences. Her speaking business has continued to grow due to word-of-mouth referrals, while her personal life has offered many immense challenges and opportunities for growth.
It is this 'real life' experience that forms a foundation of an authentic and relatable message, one that only Julie can deliver. You can learn more about Julie by visiting her website www.juliecross.com.au and you can connect with her online via Instagram and LinkedIn.
---
Know Someone Who Would Love To Read:

Living and Loving with Autism
Share This Page With Them
.
Back To The Top Of The Page