Advertise Here!
A Theory of Human Motivation
(By Abraham Maslow)
Want To Study Psychology?

When Abraham Maslow introduced the world to Humanistic Theory, a 'third force' in psychology was born (Behaviorism & Psychoanalytical theory being the first and second). As the name suggests, humanistic theory concerns itself with characteristics which are distinctly human.

| | |
| --- | --- |
| Arguably the best known example of such a characteristic is Self-Actualization, an innate motivating force unique to the human species. Originally Published in Psychological Review in 1943, it was in this landmark publication that Maslow provided the first published representation of Self-Actualization at the pinnicle of a hierarchy of human needs. According to Maslow Self-Actualization refers to the desire for self-fulfillment, in essence to become everything that one is capable of becoming. | Find A Psychology School Near You |
Clip from a 1968 interview with Abraham Maslow.
Did You Know?
You can download a free full-text PDF of Abraham Maslow's classic (Self-Actualization/Hierarchy of Needs) article via the following link.
May 20, 18 10:00 AM




John Stuart Mill was born. A revolutionary thinker, Mill's ideas had a profound influence on the history and development of psychology. A notable example being Mill's empirically driven system of indu…

May 19, 18 10:00 AM




The Brooklyn Daily Eagle newspaper in New York announces 'Discovered Inferiority Complex' in a headline story about Alfred Adler. This wonderful editorial notes:

'Towering above the whole brood of pe…

May 18, 18 10:00 AM




During the annual meeting of the American Association for the Study of the Feeble-Minded in Illinois, psychologist Henry H. Goddard proposed adopting the terms moron, imbecile, and idiot as three dist…
If you like this website please support my
All About Psychology Patreon Page
so that I can continue to create free content and resources for psychology students and educators.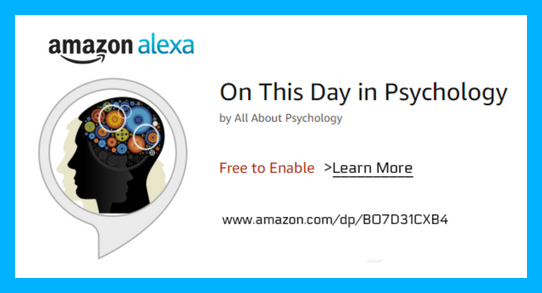 Back To The Top Of The Page
Download More Free Full-Text Psychology Classics