Emotions Don't Think: Emotional
Contagion in a Time of Turmoil


Dr. Bruce Hutchison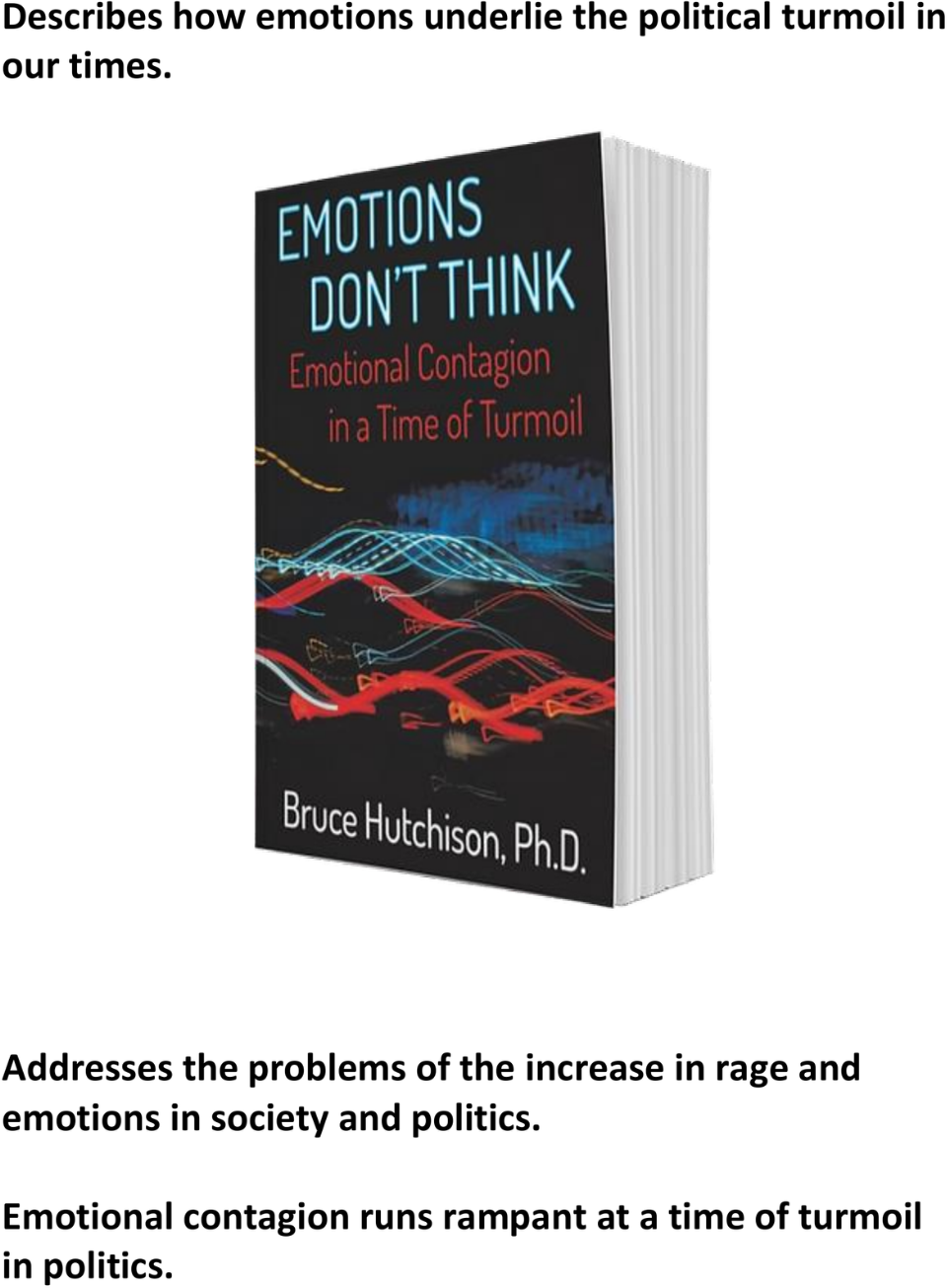 A Must Read for Anyone Curious About Political Turmoil in Society
We live in a time when America and the world are facing an invisible enemy. The pandemic surged, and social relations are fraught with turmoil. We face global turmoil, and turmoil comes with emotions. Emotions are on edge; many people fear for their lives. Little has been written about the power of emotions and emotional contagion in this time of global turmoil until now.
Dr. Bruce Hutchison describes emotional contagion as one of the most powerful forces at play in society and politics in the last few decades, building to the 2020-21 crescendo and into 2022 and beyond. We need to learn about how to handle it to help us adapt to today's stress. Dr. Hutchison's book helps us learn how to do that.
In the book Dr. Hutchison talks about how emotional contagion contributes to social and political turmoil and how people can work at overcoming the effects of negative emotional contagion to lower the turmoil. The impact of negative emotions and feelings during social – political upheaval has been strong, and he writes about how to manage them to lower their impact, in any future events, since they can get destructive.
Emotions are contagious and infectious and often spread from one person to another, so you can get infected by emotions when you are around people. This affects people during troubled times. Emotions don't think and yet so many people base their decisions on emotions, including their votes.
People get emotional about what they believe, and so when their beliefs are criticized, challenged or even attacked, their emotions usually get riled up. This is natural. It is human nature. It happens to most of us. Troubling feelings and emotions spread easily in society at these times. But we have to manage them for the betterment of all of us. Understanding how to manage them effectively helps lower the turmoil and destruction, since emotions drive actions.
Dr. Hutchison's book explains why the year 2020 and 2021 were rife with turmoil. His book goes beyond the events to the emotion that fueled it. Dangerous, infectious emotions spread like a virus and infect others. Pessimism, cynicism, depression, fear, hate, panic, anxiety, disgust and suspicion are all contagious. So are violence and conspiracies. This continues into 2022 and likely into 2023 and beyond. These emotions spread and put people into turmoil. People use these emotions to think, but emotions can only feel. EMOTIONS DON'T THINK.
Praise for Emotions Don't Think: Emotional Contagion in a Time of Turmoil
"Dr. Bruce Hutchison brilliantly defines how to recognize our emotions, how to inoculate ourselves, and how to deal with them, from a cognitive point of view. This highly readable book is very timely, and a wonderful resource for all of us who are struggling to understand and deal with the turmoil and stress of today's society."
– Dr. David Nozick, C.Psych., Clinical Psychologist, Ottawa, ON.
"Bruce Hutchison helps us understand the relationship between our emotions and our decision-making. He provides us a psychosocial education -- an understanding of how emotions can (move) in our bodies in response to others, and how we are susceptible to absorbing and incorporating others' emotions into our world and our life. He helps us see that better understanding emotional reactions can decrease turmoil in ourselves and in our society. This book is a guide to help us think more clearly and with more wisdom before we vote. Perhaps if more people listen to the words of Bruce Hutchison, we can elect better governments."
– Dr. Jon Gerrard, MLA-River Heights, Winnipeg, Manitoba, Canada, was the leader of the Manitoba Liberal Party from 1998 until 2013. He was an M.P. and secretary of state for the Chrétien government.
"Emotions are recognized to be a powerful force in politics, affecting perceptions, reasoning and behaviour. In recent decades, populist political leaders have been successful at expressing and amplifying the emotions, particularly the negative emotions of their followers. In this valuable book Bruce Hutchison uses his background of study and practice in the field of clinical psychology to investigate the origins, nature and behaviours that give expression to underlying feelings of anger, fear, disappointment, loss and hostility that are on vivid display daily in these turbulent times. Written in an accessible style, the book will provide informative and provocative reading for concerned citizens."
– Dr. Paul G. Thomas, Professor Emeritus of Political Studies, University of Manitoba, Winnipeg, MB.has received numerous awards for his teaching and public service activities, including the Order of Manitoba and the Vanier Medal for Excellence in Public Administration.
"Few topics are more critical nor timely than those so well covered in Bruce Hutchison's book Emotions Don't Think. This book allows us to appreciate contagious negative emotions like hate, fear and their related disinformation and contagious positive emotions like love and gratitude. Drawing on his experience as a clinical psychologist, Dr. Hutchison shows us why understanding emotional contagion is a valuable addition to any best life toolkit. He endorses positive capacity building and explains that contagious optimism is capable of reviving communities in times of turmoil and disruption. He also uncovers multiple ways contagion can enhance social relations, institutions, critical processes, even whole societies. To his credit, Hutchison avoids making his book an inadvertent source of emotional contagion. The tone is clear and the assertions consistent. The author balances critique with deep experience."

– Donald R. Officer, M.A., author and consultant, Wellington, ON.
"Dr. Hutchison explains a complex phenomenon in an understandable way."
– Dr. Garrett Kafka, C. Psych. Clinical Psychologist, Winnipeg, MB.say.
"I say this honestly. I have rarely read a book (Emotions Don't Think) that is so relevant to our times that I am actively applying its teachings in my everyday life. This is one of those rare books. It teaches you to 'see' an emotion coming towards you that you are then unable to 'unsee.'"
– M. Laughton, Ottawa, ON.
"Our world is in chaos, with the pandemic, lockdowns, chaos, and wars all over the world. It all starts with emotions. I was referred by a friend to read this book and I have to say the author does an amazing job showing the causality of emotional contagion in this world on a macroscopic level and then breaking it down to a microscopic, personal level, one that we can all relate to. It teaches you 'Don't let emotions contaminate your actions and choices.'"
– Jared, Los Angeles.

---
Emotions Don't Think: Emotional Contagion in a Time of Turmoil is available to buy from your local bookseller and online internationally from Amazon.

---
About The Author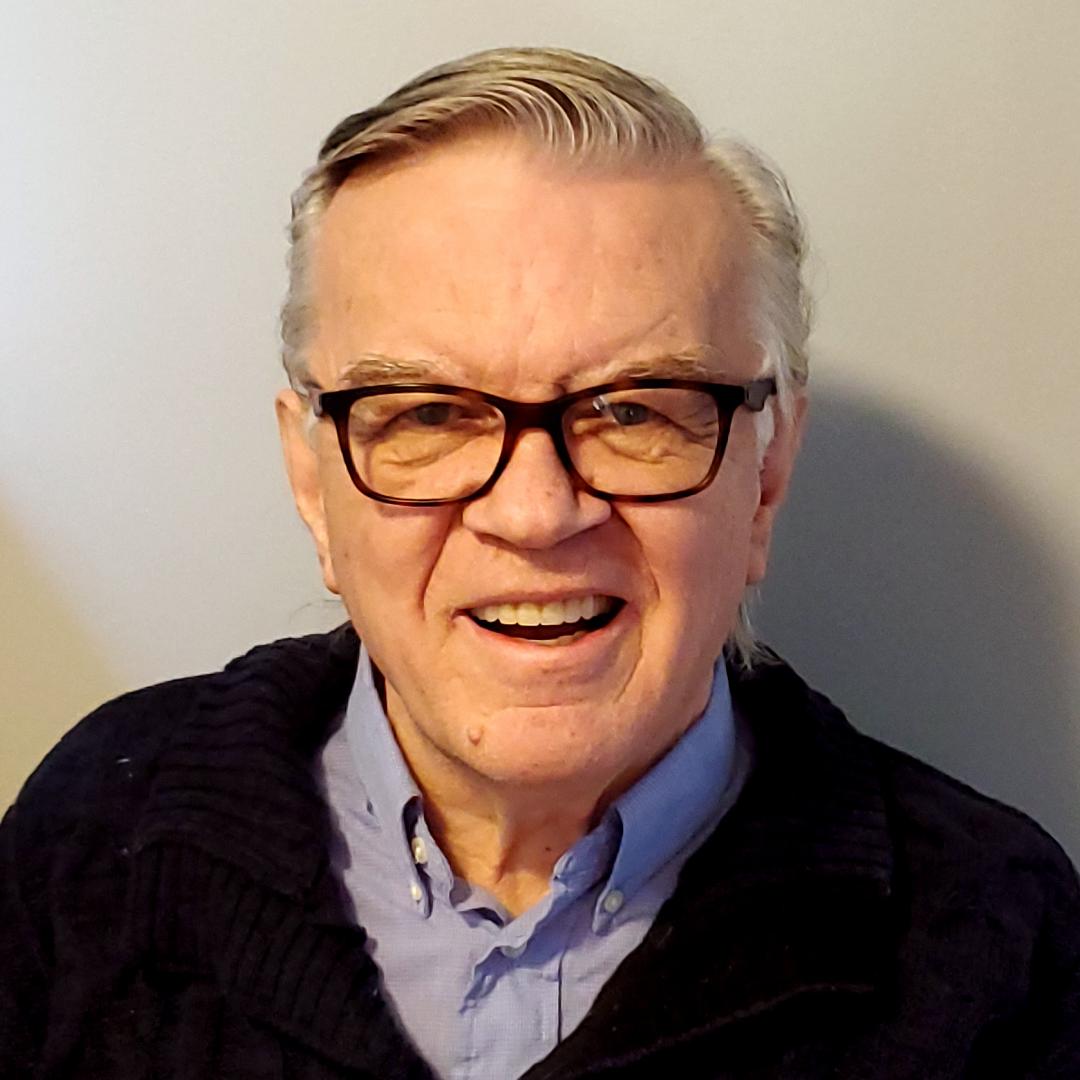 A retired clinical psychologist, Dr. Bruce Hutchison did his Ph.D. at the University of Ottawa, and practiced psychology in Manitoba, Alberta and Ontario. With over 50 years of experience, Dr. Hutchison has experienced and identified emotional contagion in many of his sessions with his clients, when emotions move and flow from client to therapist. He has appeared on TV and has travelled giving speeches and talks about various topics in bettering oneself.
An award-winning psychologist, he is known throughout Canada. As a Canadian, he has been close enough and yet far enough away from the U.S. He can be a little more objective, and less infected by the emotional infection he says flows in the U.S. media and society, although similar turmoil occurs in Canada, as seen in Ottawa in early 2022.
You can learn more about the groundbreaking work of Dr. Hutchison's book by visiting his website and blog and you can connect with him online via Twitter and LinkedIn.
---
Know Someone Who Would Love To Read Emotions Don't Think: Emotional Contagion in a Time of Turmoil?
Share This Page With Them
.
Back To The Top Of The Page