Click following link to check out a collection of classic articles that all psychology students should read.



Psychology Classics On Amazon





Counseling Psychology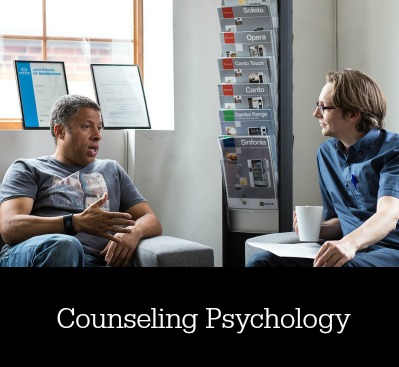 "Counseling psychology is a general practice and health service provider specialty in professional psychology. It focuses on how people function both personally and in their relationships at all ages. Counseling psychology addresses the emotional, social, work, school and physical health concerns people may have at different stages in their lives, focusing on typical life stresses and more severe issues with which people may struggle as individuals and as a part of families, groups and organizations. Counseling psychologists help people with physical, emotional and mental health issues improve their sense of well-being, alleviate feelings of distress and resolve crises. They also provide assessment, diagnosis, and treatment of more severe psychological symptoms."
American Psychological Association

Perspectives on Counseling Psychology
Counseling Psychology vs Clinical Psychology
When it comes to professional practice, there is a significant degree of overlap between counseling and clinical psychology. For example, both counseling and clinical psychologists are able to offer a range of psychotherapeutic interventions and services.
To appreciate the difference between counseling and clinical psychology, one must look to the historical development of the two disciplines. Patricia R. Roger and Gerald Stone from the Society of Counseling Psychology, (Division 17 of the American Psychological Association) have written an excellent article on this topic which you can read HERE.
Counseling Psychology Career Advice & Information
Counseling Psychology is a recognized specialty within professional psychology, the practice of which requires a specific knowledge base attained through coordinated education and training. As such, anybody interested in pursuing a career as a counseling psychologist should make their national psychology association or representative body a first port of call for information, advice and guidance.
With this in mind, I've provided information links for anybody interested in becoming a counseling psychologist, or anybody wanting to find out more about what counseling psychologists do.

This information will relate predominately to the practice of counseling psychology in the USA & UK (Spelled with an extra "L" i.e. Conselling Psychology) however, I hope to include related information from other countries in due course.
USA
The Society of Counseling-Psychology Division 17: The American Psychological Association
Founded in 1946 The Society of Counseling-Psychology promotes personal, educational, vocational, and group adjustment in a variety of settings. Via the website you can access Society of Counseling-Psychology newsletters and other useful publications. There is also a comprehensive student section that provides the answers to a range of questions relating to the study and practice of counseling-psychology.
CLICK HERE To Visit The Society of Counseling-Psychology Website.
UK
The British Psychological Society
CLICK HERE for information on:
The Role of The Counselling Psychologist
How Much Counselling Psychologists Get Paid
Becoming A Counselling Psychologist
Obtaining Relevant Work Experience
Australia
The Association of Counselling Psychology
Among the information provided here you will discover what a counselling psychologist is, how to become a counselling psychologist and what the The Association of Counselling Psychology does..
CLICK HERE To Visit The Association of Counselling-Psychology Website.
The Australian Psychological Society College of Counselling Psychologists
The role of the APS College of Counselling-Psychologists is to enhance the professionalism and competency of counselling psychologists and to promote the work of counselling psychologists to their professional colleagues and within the community. The following link provides information to members about the current activities of the College of Counselling Psychologists and to assist psychologists who are considering joining the College. Information is also available relating to the type of work that counselling psychologists do.
CLICK HERE To Visit The Australian Psychological Society College of Counselling Psychologists Webpage.
(Many thanks to Ben Mullings for letting me know about these very useful links).
Carl Rogers Conducting Client Centered Therapy
The following five-part video playlist was part of a groundbreaking production from 1965 Entitled "Three Approaches to Psychotherapy" featuring Carl Rogers, who was profoundly influential in the humanistic movement towards person centered theory and non-directive psychotherapy/counseling. 

Recommended Reading
Counseling and Action couples a timely update on the multiple roles of action in counseling with an action-based framework for enhancing progress between client and professional. Grounded in the core concepts of contextual action theory as well as key aspects of counseling (e.g., identity, intentionality, emotion), the book explicates an approach that is responsive to client complexities and the larger social conditions that frame them. Expert-penned chapters apply theory to practice, illustrating levels of engagement in action as counselor and client negotiate goals and work toward their realization. And an especially useful section offers guidelines for intervening with specific populations and addressing particular issues. Among the topics covered:
Designing projects for career construction.
Agentic action in context.
Counseling intentional addiction recovery grounded in relationships and social meaning.
The action of mindfulness in counseling.
A contextual action theory perspective on self-efficacy in individual counseling.
Counseling processes and procedures through the lens of contextual action theory.
With its forceful argument for a quantum leap in both theory and practice, Counseling and Action is transformative reading for professionals, educators, and graduate students in social work, psychotherapy, psychology, and counseling.
See following link for full details.
Counseling and Action: Toward Life-Enhancing Work, Relationships, and Identity
May 06, 21 04:51 AM

Classic article on the concept of psychological projection i.e., unwittingly attributing one's own traits to others.

May 05, 21 03:10 AM

Show family, friends and loved ones living with Alzheimer's and other dementias that they will never be forgotten with this purple Love Never Forgets elephant design. Perfect for Alzheimer's and brain…

May 05, 21 03:10 AM

Show your support for mental health awareness month with this green ribbon distressed style United States flag T-Shirt
Back To The Top Of The Page
Go To The Types of Psychology Page