Before, During, And After Recovery: A Complete
Guide To Get You Through Counseling
One of the crucial aspects of your overall health is your mental health, which includes your psychological, emotional, and social wellness. It influences how you feel, think, or act in certain situations. More importantly, your mental health determines how you relate to others, make decisions, or handle stress.
From time to time, some people may encounter mental health problems, which may have a wide range of causes. For some, it's because of work- or school-related stress, family-related issues, poverty or social disadvantage, and job loss. For others, their mental health problems can be rooted in much deeper causes like abuse or domestic violence, childhood trauma, long-term physical health condition, and substance misuse.
Whichever the cause, one effective way you can work on your mental health is through counseling. Through counseling, you identify your personal issues or difficulties and make progress in finding resolutions.
What is Counseling?
Professional counseling is a collaborative process between a counselor/therapist and a client. It aims to help people pinpoint the struggles that have affected their mental wellness. Once the problems are identified, they'll discuss all the potential solutions to help improve your mental state and promote behavioral change.

Unfortunately, there are a lot of stigmas surrounding counseling. The most popular misconception is that it's only for people with mental health disorders. As a result, many people get anxious when advised to go through counseling. However, the truth is that counseling is for anyone who wishes to understand the state of their mental health.

If you're new to counseling, you may not know yet what to do, how to prepare, or what to expect at all. Most of the time, people think counseling is visiting a quiet room with a big couch and an old counselor. However, this is far from the truth.

To successfully get through counseling, this article will guide you on how to make the best of your counseling sessions and learn how to prepare accordingly.
Your Complete Guide To Help You Get Through Counseling
Before Counseling:
1. Find The Right Counselor
The overall quality of your counseling experience depends on the counselor you choose. Choosing the wrong counselor may lead to dissatisfaction and no growth or improvement in your life quality or mental wellness. To help you find the most suitable counselor for your situation, check out some reputable counseling clinics in your area, such as Insight Northwest Counseling In Portland Oregon, or other mental health institutions that offer counseling services.

Then, assess yourself on why you want to see a counselor in the first place. Each kind of counselor offers different types of counseling. For example, if your goal is to achieve personal growth or to manage personal challenges (e.g., depression, substance abuse, anxiety), you'll need individual counseling. Meanwhile, if you're having problems with your family, you and the household members may benefit best from family or group counseling. For couples having troubles with their marriage or partnership, couples counseling may help resolve marital conflicts. Ultimately, choosing the right counselor with the right type of service is one of the keys to going through counseling successfully.
2. Check Their Credentials
Before booking your first session, it's wise to check your counselor's credentials and qualifications first. A certified counselor must at least have a master's degree in counseling or psychology and other accreditations related to this field. An accredited counselor will assure you that they have undergone proper training and experience that can greatly help your situation.

3. Prepare Accordingly For Your First Session
Even if you've already chosen the best counselor, it's still vital that you make the necessary preparations before going to your first counseling session. Coming to the office prepared can help make the session go smoothly for you and your therapist.

To help you prepare, you may contact your counselor through email or phone call and raise all your questions or concerns related to your first session.

For example, you can ask your counselor how long the session may take. Generally, a counseling session runs for 40 to 60 minutes or longer, depending on your case. Group counseling sessions may last up to 90 minutes, while intensive individual counseling can run for two to three hours. Knowing how long your session may last can help you prepare your schedule and set aside enough time without compromising your other daily responsibilities.
4. Take Down Notes
Understandably, since the first session might be too daunting for you, you may experience a mental block once your counselor asks about you or your struggles. To avoid forgetting anything during your counseling session, you can take down notes about the topics you'd like to discuss with your counselor. Preparing notes will help you stay focused on resolving your issues. Some of the topics that you can list are:
Challenges you're currently facing
Recent events or life changes that caused your mental health problems
Information about your family situations and other significant events in your life
Solutions or habits you've tried in the past to feel better
Medications you previously or currently take
Health conditions you've previously or recently experienced
How long you've been struggling with your current challenges
When you have notes of the topics that you wish to discuss, you can easily write down the solutions or suggestions your counselor says besides the topics you've discussed in every session.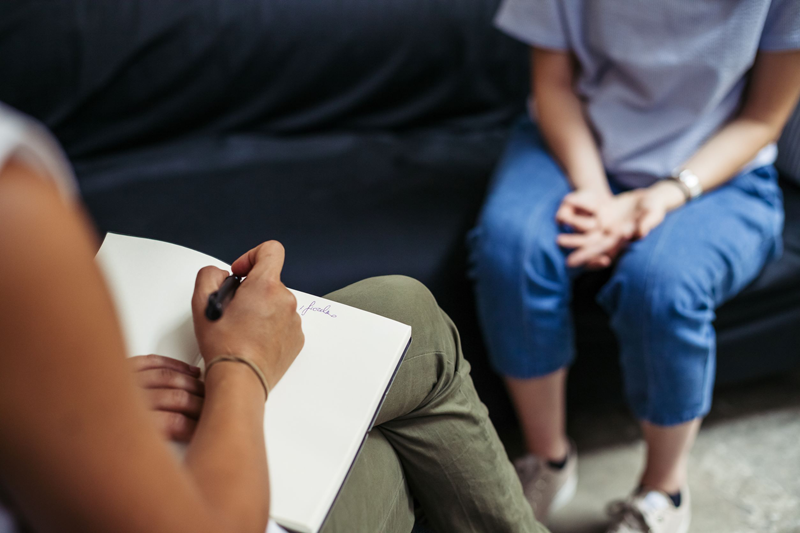 During Counseling:
5. Arrive Early
Before the actual counseling, your counselor will require you to fill up and complete some papers, which may take five to ten minutes. To make the most of your counseling, it's wise to arrive early so you'll have extra time to complete all the necessary paperwork.

Being early for your counseling sessions assures you that you'll get the most out of them. Generally, most counselors meet around seven to eight clients daily, dedicating 40 to 50 minutes to each. If you're late for even ten minutes, you've already missed a quarter of your session, leaving you little time to cover all the topics you wish to discuss.

Furthermore, being late can also affect your psychological well-being. For example, when you're 10 to 15 minutes late, you're starting your session in a stressed state, which isn't a good way to begin. As a result, your counselor will need to dedicate a few minutes of your session to relaxation techniques to calm down before beginning the session. Some clients also tend to feel guilty when they're late, and this guilt could distract you from expressing the real reasons behind attending your session in the first place.
6. Have An Open Mind
Opening and discussing your inner struggles with a total stranger can be nerve-wracking and awkward, especially for first-timers. With the whole experience being foreign to you, you may be hesitant to open up. But remember, one key to successfully going through your counseling is to have an open mind. Your counselor won't be able to understand or even help you with your struggles if you don't open up correct information about yourself and your situation.

As much as counseling can be out of your comfort zone, understand that this can be an amazing opportunity to boost your mental health and become a better individual in the future. So, prepare yourself to become more open-minded, starting by being active in building a relationship with your counselor. Don't just treat your counselor as your doctor or therapist; instead, think of them as your newfound friend or ally. After all, a skilled counselor will ensure that their patients feel comfortable and completely at ease with them during their sessions.
7. State Your Goals
It's recommended to state your clear goals to your counselor so you'll be on the same page in identifying the problem and creating resolutions. Usually, most counselors start their sessions by asking their clients about their specific goals. This is your counselor's way of knowing which issues are important to you and where they can focus their attention.

8. Let Your Counselor Guide You
Even with the list of topics and goals you have, be aware that there may be instances where your counselor will pick up on some things that you mention or say along the way. When this happens, it means they see a new aspect that needs to be discussed as part of finding a solution to your issues. So, go with the flow, and let your counselor guide you on your way to finding answers to your struggles.
After Counseling:
9. Do Your Homework
The effectiveness of your counseling isn't only determined by how the session went. There are still other things that your counselor may ask you to do after the session as part of the steps in achieving your goals. For example, if they ask you to write a letter about a particular issue, create an art based on your emotions, or start a journal, make sure to do your homework. Otherwise, it'll take much longer for you to see the results of your counseling. So, make an effort to follow what your counselor asks you to do, as it's all for your own good.
10. Talk About Your Next Counseling Session
Depending on the number of counseling sessions you're recommended to have, don't forget to discuss with your counselor what to expect for your next session. Remember, just because you're feeling good after your first session doesn't mean you no longer need the next one. Counseling isn't a quick fix, so expect your counselor to ask you questions or give you topics that you'll need to report back for the next session.
Key Takeaway:
Counseling allows you to face your inner struggles and figure out solutions with your professional counselor's help. Remember that positive changes will take some time. Along the way, the wait and the process can be frustrating, but that's okay. Counseling, whether long-term or short-term, is an investment you can make for your present and future self. Once you've successfully gone through all the counseling sessions and put in all the work needed, you'll see the benefits of it in every aspect of your life.
---
Know someone who would be interested in reading 

Before, During, And After Recovery: A Complete Guide To Get You Through Counseling

? 






Share This Page With Them.




Back To The Top Of The Page