Advertise Here!
www.all-about-psychology.com/psychology-advertising.html
5 Fabulous Quotes About Psychology
1.
2.
3.
4.
5.
Sep 24, 18 10:00 AM




Albert Bandura's landmark book "Social Learning Theory" was published in which the Stanford University psychologist sets out how new patterns of behavior can be acquired through direct experience or b…

Sep 23, 18 10:00 AM




Norma Estelle Cutts was born. A pioneer in the provision of school psychological services in the United States, her landmark publication in 1943 "How to Use Psychological Service in the Schools, A Gui…

Sep 22, 18 10:00 AM




Robert Thorndike was born. A brilliant psychometrician, Thorndike is best known for his collaborative work with Irving Lorge and Elizabeth Hagen in developing measures of mental and scholastic ability…
If you like this website please support my
All About Psychology Patreon Page
so that I can continue to create free content and resources for psychology students and educators.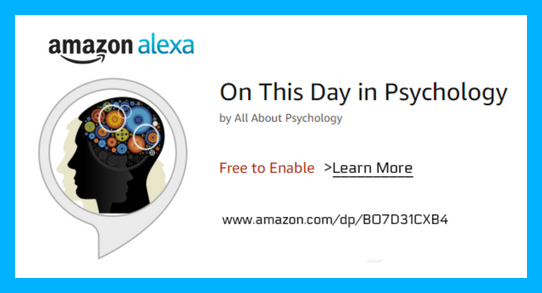 Back To The Top Of The Page