A very warm welcome to the first edition of the All About Psychology Newsletter.
In This Edition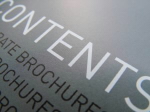 What's New
Coming Soon
Just For Fun
In The News
Too Good To Miss
And Finally
---

This section of the newsletter showcases the most recent additions to the All About Psychology Website.
The Psychology Associations Directory
Anybody interested in the study and practice of psychology should make their national psychology association or society a first port of call for information, advice and guidance.
The Psychology Association Directory is organised alphabetically by country and includes a link to the psychology association website homepage if available.
Visit The Psychology Associations Directory
Why is Psychology Good
This is the title of a short but engaging lecture given by Professor Martin Seligman. A video of this thought provoking talk has just been added to the psychology videos page.

I will be using twitter to let people know about all the latest updates on the All About Psychology Website.
Start Receiving Twitter Updates
---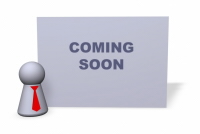 Psychology Degree Directories
In response to the the number of e-mails I receive requesting information on psychology courses, schools and programs, visitors to the website will soon be able to access a series of comprehensive psychology degree directories. These Will include a:
USA Psychology Degree Directory
Online Psychology Degree Directory
UK Psychology Degree Directory
International Psychology Degree Directory
The USA directory is currently work in progress and will eventually be organized by state.
Take A Look At The USA Degree Directory
---

Psychology Anagrams
Rearrange the letters to reveal the names of eminent psychologists.
1. A Giant Jeep
2. Anal Barter Bud
3. Refund Id Mugs
4. Viva Van Lop
5. Email Jaws Mil
(Answers given below)
Don't forget that there is an entire section dedicated to the less serious side of psychology on the website.
---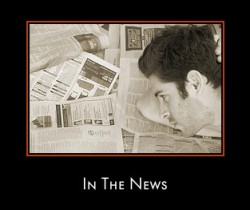 Hold the front page; this section of the newsletter documents any interesting psychology stories out there in the real world.
What Makes A Serial Killer Kill?
A Radford University psychology professor and his students have spent 15 years investigating that; compiling a database of about 18-hundred killers, over centuries. And he says not all serial killers fit the same mold...
Men More Generous When With Pretty Women
Men, it would seem, always have an ulterior motive – even when it comes to giving to charity. Psychologists have discovered that men give more money when in the presence of a woman they find attractive compared to one they find unattractive, or members of their own sex...
Mirrors Don't Lie. Mislead? Oh, Yes
To scientists, the simultaneous simplicity and complexity of mirrors make them powerful tools for exploring questions about perception and cognition in humans and other neuronally gifted species, and how the brain interprets and acts upon the great tides of sensory information from the external world...
---

This section of the newsletter highlights the most fascinating psychology related news and research.
Total Isolation
Compelling documentary from The BBC science program Horizon.
Research Summary
For the first time in 40 years Horizon re-creates a controversial sensory deprivation experiment. Six ordinary people are taken to a nuclear bunker and left alone for 48 hours. Three subjects are left alone in dark, sound-proofed rooms, while the other three are given goggles and foam cuffs, while white noise is piped into their ears.
The original experiments carried out in the 1950s and 60s by leading psychologist Prof Donald Hebb, was thought by many in the North American political and scientific establishment to be too cruel and were discontinued.
Prof Ian Robbins, head of trauma psychology at St George's Hospital, Tooting, has been treating some of the British Guantanamo detainees and the victims of torture who come to the UK from across the world. Now he evaluates the volunteers as their brains undergo strange alterations.
Watch The Total Isolation Documentary in Full
---

If you think your family, friends, colleagues or fellow students might be interested in reading this newsletter please feel free to forward it to them.
If you haven't already subscribed to the All About Psychology Newsletter and would like to receive all future editions, you can do so via the following link.
Food For Thought
"Everything that irritates us about others can lead us to an understanding of ourselves." (Carl Gustav Jung)
Anagram Answers
1. Jean Piaget
2. Albert Bandura
3. Sigmund Freud
4. Ivan Pavlov
5. William James

For reading the All About Psychology Newsletter.
Until next time.
All the very best
Dave Webb BSc (hons), MSc
---